This is my first opportunity to share with you my thoughts, dreams, challenges, and ambitions, and I hope you will share back yours with me.
While new to the Community Futures Network of Alberta, I have been 'in the field' guiding local Community Futures offices and programs in Western Canada for more than 30 years.
The past decade has been remarkable. From the depths of recession, shifts in historic resource industries and natural disasters, to record population growth and the entry of new industries, one thing has remained unchanged: our approach to rural economic development.
Every day, Community Futures organizations use their unique knowledge of small business, community investment, and person-first values to grow entrepreneurship and communities in Alberta. Deeply understanding business clients and how their work is driving the economy in Alberta has sustained and fueled our network, and it's with a new emphasis on these essentials that we are charting the next decade.
Encouraging connection
Technology is uniting the world. That connection has taken huge steps forward in the past decade. Greater connectivity is revolutionizing industries, workplaces, and societies. We are determined that these gains will not be limited to certain people or communities. Many of our members are taking steps to build new pathways to Community Futures resources; pairing technology and knowledge to make sure people from every corner of Alberta can get access to our business programs and one on one support.
Growing diversity
Small business and economic development are complex and challenging. To succeed you not only need skills and ideas – you need people to be empowered.
The Community Futures program focuses on early entrepreneurship and developmental lending. However, some key members of Alberta's small business community are being left out.
When starting a business, remote geography and dispersed services can isolate entrepreneurs that are young, female, Indigenous or new to Canada. It's with these entrepreneurs in mind that the Alberta Network is uniting to reach out and open doors to these economically vital small businesses.
Over time, you may have wondered what the future would hold for Community Futures. Frankly, sometimes so did we. A broad patchwork of organizations all working to solve diverse economic challenges isn't easy to know or navigate. But after reflection, we know that helping raise-up ideas and people is what we are here for. We are a web of over a hundred small business experts - with thousands of unique experiences and ideas, and we want to learn more and share what we know.
Over the coming months, the team at the Community Futures Network of Alberta is eager to help grow this commitment to small business in Alberta. We hope you will join us.
Sincerely,
Phyllis Maki
Executive Director, Community Futures Network of Alberta
---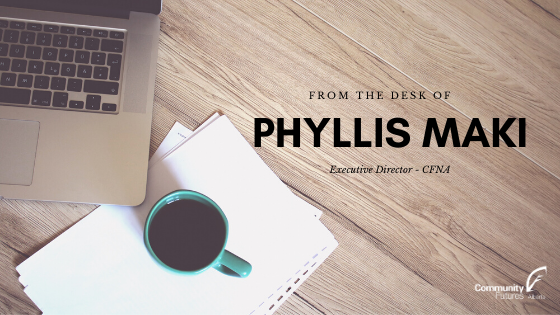 ---
From the outside it may seem like we are a lot like other lenders and business development agencies. The truth is we're very different: we understand small business in rural Alberta like nobody else.
We live and work in the communities that you do, and know that rural communities thrive when small businesses do.
When you succeed, we all succeed.
The Community Futures Network of Alberta is a community driven, non-profit loan and business development organization made up of 27 Community Futures offices throughout rural Alberta.
Find your local office.