Do you have a business idea that has been burning in the back of your mind?
The time is right to join the thousands of Albertans following their passion and finding opportunity in a rural small business community.
Here's a rundown of the most common mistakes that can prove detrimental to new entrepreneurs, and some solutions to help you in your business planning venture: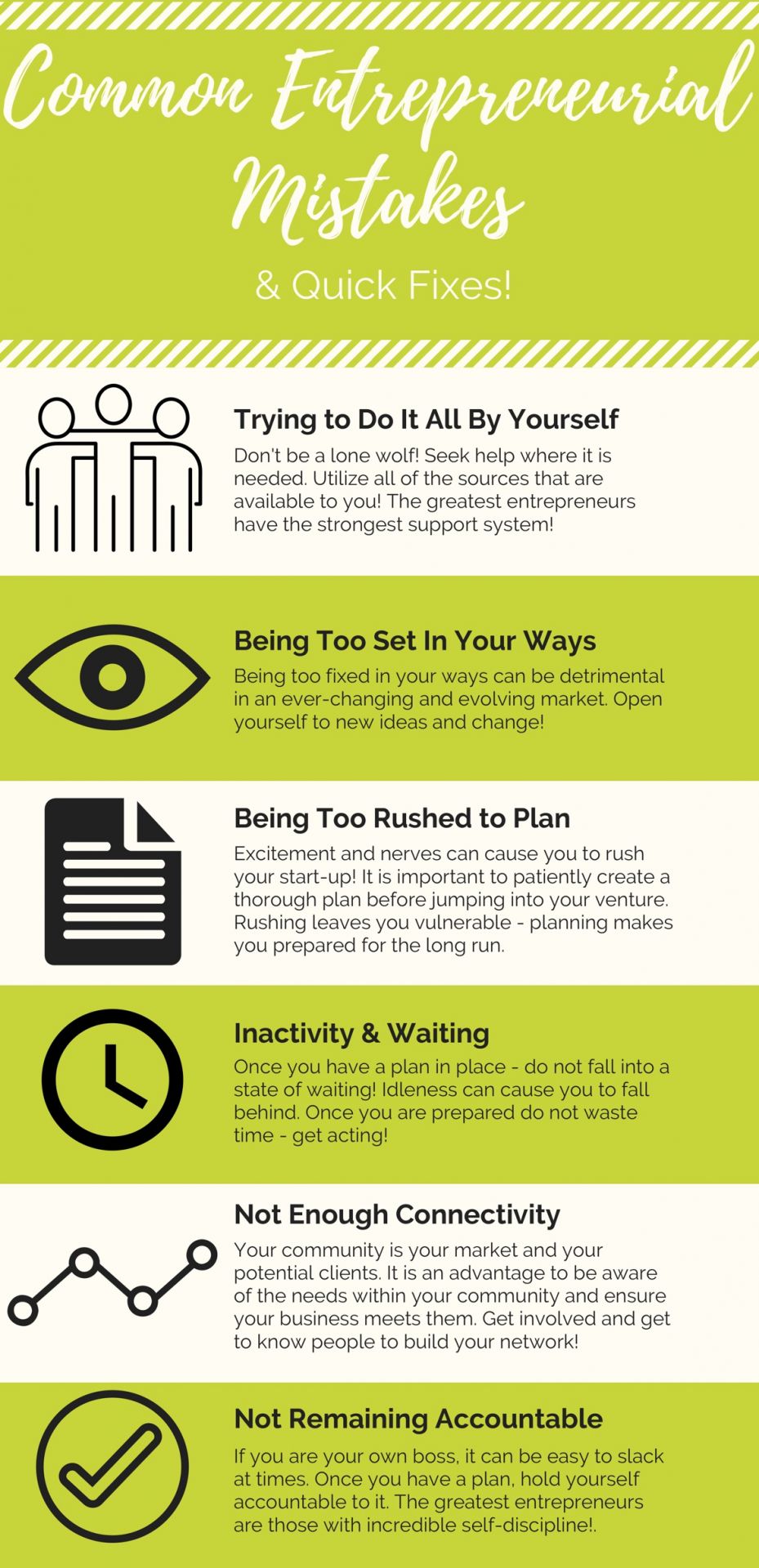 The Lone Wolf:
Don't be a lone wolf! It can be through stubbornness or pride which causes entrepreneurs to commonly attempt to master the entire business venture process all by themselves. The saying is "the pack survives" - and it is used for good reason! The journey can be overwhelming at times, so having a team to support each other is important for a business to overcome challenges along the way. Do not be shy to seek help when it is needed! Whether it be financial or professional, entrepreneurs should utilize the resources available to them in business coaching, loans, or general advice!
Rigidity:
Markets are constantly evolving and changing which means a rigid business faces the risk of being left behind. It is a mistake to be too set in your ways and the remedy for this is easier said than done but it is the best case:
open yourself to new ideas. Changes and new ideas can make entrepreneurs feel uneasy because they may not have as much control as they are used to but it is necessary to evolve in order to create a long-lasting and sustainable business. Instead of becoming nervous about change, look at it in terms of opportunity; this will open up the door to taking advantage of an otherwise missed chance!
Insufficient Planning:
It is easy to underestimate how much planning is needed for the business to run as smoothly as possible. According to experts, "people run into financial problems when they rush into self-employment" (CBC 2018) which is why it is important to lay out a thorough financial plan and ensure to hire a good bookkeeper to continuously monitor your finances. A strong business plan that lays out financial considerations, marketing plans, risk management, and any important aspects to note is crucial for any entrepreneur to be prepared for many circumstances throughout the business venture. Thorough planning and preparation is the foundational step that must be carried out carefully before the business starts in order for the business to remain orderly and sustainable. Don't rush!
Idleness:
Although patience is key for any business to take root and grow, there is a fine line between perfect patience and too much inactivity. Entrepreneurs should not fall into idle mode and start waiting for things to happen. Whether it is due to possible fear or uncertainty, it is common to push off your start-up even when you are prepared! Sometimes, all you need is to take the leap and just get started! Once planned and prepared, waiting and inactivity only becomes a barrier to your success… so the fix is to trust yourself and your plan and simply act!
Community Awareness:
For any business idea to be successful, it must meet a market need. Often times, entrepreneurs do not take the time to get to know their market in order to ensure that there is room for their business within a community. Knowing the market also expands into becoming involved in your community for this is crucial to building a network and loyalty. If you are involved and known in your community, people will be quicker to support your business venture. So before you start, ask yourself if your business will meet a need in your community and if you are connected enough to get the word out!
Responsibility:
Once the business plan is created, it is important for entrepreneurs to hold themselves to it as much as possible. Holding yourself accountable and taking responsibility will help to ensure that you stick to deadlines and remain disciplined. Self-employment takes a lot of self-discipline and dedication and so it can be hard to stay in line! Always ask yourself whether you would do something if you were working at an office with many colleagues before acting; if the answer is yes you are most likely on track!
Find local support & knowledge
These are all common mistakes with simple fixes that make all the difference in a small business!
The main foundations of success come from preparation, organization, and responsibility. With an increase in self-employment in Alberta, now may be the perfect time to get your business started.
Community Futures has 27 offices across Alberta
Each Community Futures office provides flexible and affordable small business loans, business coaching/training services and business management tools for people wanting to start, expand, franchise or sell a rural business.
Most offices also run specialized business programs for Entrepreneurs with Disabilities or health conditions and Young Entrepreneurs.
Sources:
http://techtrendske.co.ke/8-common-mistakes-that-you-need-to-avoid-as-a-new-entrepreneur/
https://www.entrepreneur.com/article/316822
https://www.forbes.com/sites/theyec/2017/07/21/10-common-mistakes-entrepreneurs-make-when-starting-up/#85e17d43c34e
http://www.cbc.ca/news/canada/calgary/alberta-self-employment-rising-spring-2018-jobs-1.4714341